Get Outdoors While In Orlando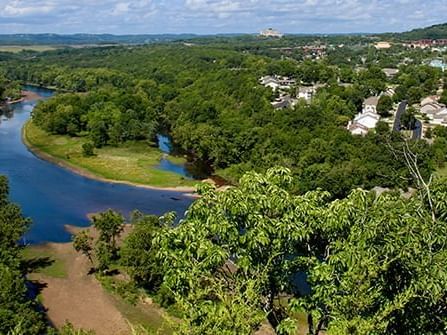 Get Up And Go Kayaking
5722 Baptist Camp Rd, Apopka, FL 32712
Just a short distance from Orlando, take an outdoor adventure to Florida's most beautiful natural springs. Get in a clear kayak and paddle your way up to the crystal clear water of King's Landing, where you can expect to see turtles, birds, fish, otters and more! Must be reserved in advance.
Lakeridge Winery
19239 US-27, Clermont, FL 34715
Ranked as Florida's largest premium winery, Lakeridge Winery overlooks over 80 acres of planted vineyard producing an abundant crop of grapes. Take a stroll through the vineyard at your own pace and learn how Florida's wines are produced. Wine tours and wine tasting are offered seven days a week. From sweet to dry, guests will have the opportunity to enjoy a selection of award-winning wines and take home their favorites.
Wild Florida
3301 Lake Cypress Rd., Kenansville, FL 34739
Take a wild adventure at Orlando's only Drive-thru Safari Park. The self-guided tour allows guests to see more than 100 exotic and native wildlife roaming in their natural habitat. The adventure doesn't have to stop there! Admission to Gator Park is included in your Drive-thru Safari Park experience. Talk to the animal care team and learn everything you want to know about these amazing creatures.
Treetop Trek
8225 N Wickham Rd STE B, Melbourne, FL 32940
Challenge yourself traversing through trees in these aerial adventures. From beginner to expert, Treetop Trek has a level of difficulty for everyone. All the courses will be introduced with a safety lesson of 25 minutes and consist of different elements and zip lines. If you are not feeling like pushing yourself but are still in the mood of being adventurous, just do the zip lines. To discover your adventurous self.
Bok Tower Gardens – Lake Wales
1151 Tower Blvd Lake Wales, FL 33853
Take some fresh air and enjoy the open space at Bok Tower Gardens. With over 200 acres of open space, guests can stroll through the gardens and enjoy breathtaking views of the Singing Tower. Over 126 different species of birds, the threatened gopher tortoise, and the endangered eastern indigo snake can be found roaming around. With an additional admission, guests can take a tour of the historical Pinewood Estate. End your day with a sweet treat from Blue Palmetto and stop by the Shop at Bok to shop for your forever memory.
Hit the Beach
Just an hour away from Orlando, take a break from the city and plan a tropical getaway to the Atlantic Coast. Soak up the Florida sunshine and listen to the waves crashing. At Daytona Beach, you can enjoy watersports, deep-sea fishing and premium dining. Visit the famous Daytona International Speedway, where the most prestigious NASCAR race is being held. New Smyrna Beach is known for its wide, hard sand perfect to ride your bike straight to the ocean. Stroll through the blocks of Flagler Avenue and shop at the local boutiques or enjoy the catch of the day in any of the oceanfront eateries. Cocoa Beach is the most popular for those who like to catch waves and is home to the world's largest Ron Jon Surf Shop. Save time to visit the historic Cocoa Beach Pier, which extends 800 feet into the ocean.